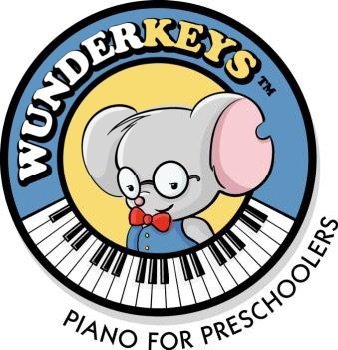 Confident Voice Studio is proud to offer Wunderkeys – a unique piano program for preschoolers ages 3 to 5.
Click Here to Schedule a Free Discovery Chat Now
An encouraging first experience in music lessons is critical to your child's enjoyment of the piano.
The WunderKeys Program has been designed to be that and more! WunderKeys lessons are tailored to meet the needs of preschool-aged children and to ensure that their first music lesson experience is positive and enjoyable.
Designed as an all-encompassing piano lesson, students participate in five different unique activities during their lesson time, ensuring they remain focused, engaged and happy.
Throughout the 3 book series, your child will develop piano and music skills that will allow for a smooth transition into mainstream piano method books.
Beginners in this program start with no prior piano or music experience and finish with solid keyboard awareness, an understanding of rhythmic notation, and the ability to play simple pieces with both hands.
Schedule a introductory lesson now
Practicing at home requires no prior musical knowledge on the parent's part.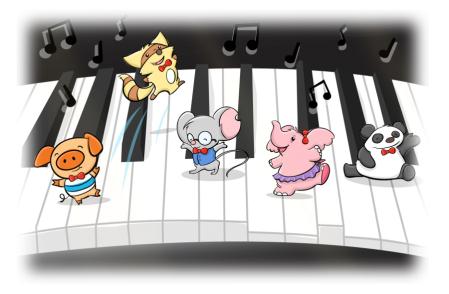 Easily laid out homework sheets guide you and your child through several fun activities each week designed to both reinforce what was learned in the lesson and create "bonding on the bench" time at home.
During WunderKeys lessons, your child has the opportunity to participate in fun activities both on and off the piano bench, which have been created to build confidence, increase enjoyment and solidify important music and math concepts.
These activities include: musical math songs, patterning activities, finger poem exercises, book work, and music card games.
We use songs, games, and fun activities to keep your child engaged and begging for their next lesson!
Schedule an Introductory Lesson now
Get Started
Have questions? We have answers. Just schedule a FREE Discovery Chat at learn more, see if it's right for your child.
Ready to give it a try?  Schedule an Introductory lesson. It's part studio tour, get to know you, lesson and skill assessment and next step recommendations. It's very exciting and motivating for a new student to see how quickly they can learn music!
Is My Child Ready for WunderKeys?
Readiness for piano lessons can vary widely among 3-5 year olds. Consider the following when assessing whether your child is ready to begin piano lessons.
If you find you are answering "no" or "not quite" to many of these questions, it is suggested that you wait a few months before beginning WunderKeys piano lessons.
Little ones develop and change rapidly! WunderKeys is designed to help them grow and learn, and creates the most feelings of success when children begin lessons once they are able to do most of the tasks listed.
[su_spoiler title="Interest"]Does your child show interest in the piano?
Does he like listening and moving to music?
Is he excited about the prospect of piano lessons?
Is your child comfortable being away from you for short periods of time?
Does your child know the difference between "banging" on the piano keys vs. playing carefully?[/su_spoiler]
[su_spoiler title="Communication"]Does your child respond well to questions asked by adults other than his parents?
Does your child sit and listen to stories with interest?
Is your child easily brought back to task when needed?
Can your child speak clearly and make himself understood in most situations?
[/su_spoiler]
[su_spoiler title="Coordination"] Can your child wiggle only his thumbs or only his index fingers when asked?
Can your child hold a pencil or crayon?
Is your child potty trained?
Can your child follow two-part directions when asked? (For example, "Use your right hand to pick up the glass and then take it to the table.)
Can your child focus on a single task for 5-minute intervals?
[/su_spoiler]
[su_spoiler title="Home"]Do you have a piano or an adequate keyboard at home (or do you have plans to obtain one?) A home instrument will be needed, but it doesn't need to be fancy.
Do you have the time to sit with your child regularly to assist with home piano time? Preschool piano students need their parents to help them at home every day.
Do you have the ability to bring your child to lessons regularly? Consistency is important to your child's success.
[/su_spoiler]
[su_quote cite="Jane Saunders"]It helps children to appreciate music and explore their own creativity in an atmosphere of support and encouragement, while building a strong musical foundation. Many of the concepts overlap with the principles of math they will be learning in kindergarten and they don't even realize they are learning- it's such fun![/su_quote]
[su_quote cite="Kimberley Gent"]The program is extremely enjoy-able which keeps kids interested and excited about learning more. [/su_quote]
[su_quote cite="Katrina Grounds"]This simple, half hour weekly class will aid in empowering him when it is time for kindergarten. I asked Aidan how he felt about his piano lessons and he said "I want to take piano lessons until I am one hundred." He is so proud of his ability and accomplishments with each lesson and home practice. [/su_quote]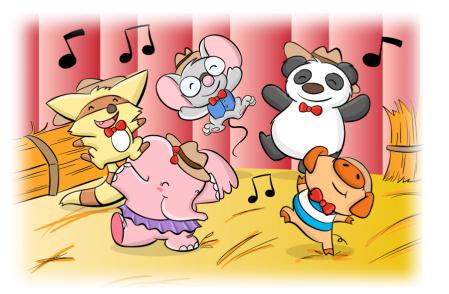 The developmental abilities of 3-5 year olds are very different than that of 6 year olds and older… for which most other piano programs are created. There are many different concepts that your preschool students need to grasp before jumping into a "traditional" piano piece. Therefore, our preschool piano lessons are spent exploring the piano in ways in which they are capable. All lessons are geared towards having them understand everything they will need to know before being able to read notated music. It is the perfect way to lead into a mainstream book series… and a life of musical enjoyment.
For many students beginning the WunderKeys program, this is their first experience one-on-one with an adult other than their parents. It's their first opportunity to be independent, to feel as though they have ownership over their own learning, and to feel pride in their individual accomplishments. The program is designed to foster feelings of confidence, self esteem, and the joy of learning.
Let's chat about how WunderKeys can help your Preschooler grow their confidence, self esteem and their love of music.
Call 503-714-1198 today or Click here to schedule a quick phone chat with a member of our team to learn more and see if we're a fit.
Schedule an introductory lesson now
What a perfect way to spend the afternoon with my 2 grandsons! They were singing and dancing to almost every song. Thank you Deana and members of the show for a memorable time.
Fun for the young & the young at heart!!
Talented singing and acting performing songs from the 40s, a time when America stood together united. Great voices, acting and comedy interspersed!
Very cute! Actors put out a good performance!
My husband and I brought our kids ages 11 and 13 and afterwards my son told me he thought it was really good. He said he was impressed to see veterans stand in the audience and be thanked for their service. He said the music in the songs really told a good story of the… Read more ""
Deanna's portrayal of the tragic Clooney had me in tears
This afternoon I went to see "Tenderly," the story of Rosemary Clooney, with Deanna Maio as Clooney and Mace Archer in a half-dozen roles that he adroitly jumps among at will. It is playing at the Samaritan Lodge in Milwaukie, which is a MUCH better venue for this company. Of course, Clooney's story, institutionalized and… Read more "Deanna's portrayal of the tragic Clooney had me in tears"
Fabulous performance! Would highly recommend it. Keep them coming, Deanna!
C.B.
The show was great. Loved the music, the comedy and of course, the cast. They were amazing!!!
great show, all the singers were good
This music is more than just nostalgia…. it informs the evolution of a national myth that was wonderful to experience and an innocence which is hard to find in contemporary music and theatre. The singers were superb in an accessible way, reminding us that it is not necessary to dance with the "stars" to find… Read more ""
Always a fun evening and look forward to more events by Deanna!
A new Musical Theatre Group got off to a great start with beautiful voices that blended perfectly. The fast pace kept our 5 and 7-year- old grandkids focused the entire time.
Enthusiastic cast made for a great evening.
Nice show, singers were good and energetic
It's a very fun show with great music. Had my toes tapping and I was singing along the whole time!
Enjoyed the music and the memories it brought back. Love the 60's.
Very entertaining good musicals enjoyed it extremely well put together will be back to see this group again
A hearty BRAVO to the ensemble
I was shocked how good it was! All the performers have amazing voices! It was so well put together AND so professionally executed, even though you can't get much h farther "OFF BROADWAY" when the lights went out and the curtain went up ( okay, there was no curtain ) you could imagine you were… Read more "A hearty BRAVO to the ensemble"
H.T.
Good selection of music for this time period. Voices fit the style. Entertaining show of the 40's that we don't often get to see in Portland. Thanks for doing a patriotic, yet historical show. Hope people who are interested in this musical time of our past will go and take their children/grandchildren so that this… Read more ""
My wife and I share a great affinity for the Broadway musical stage and were fortunate enough to personally witness many performances in NYC. And we have been to several of these programs at the IOOF hall, each of which we found to be enormously enjoyable. The performance, the enthusiasm and the curation of the… Read more ""
My daughter who is 18 has always been a Disney girl. So I surprised her with a mother & daughter date! We were pleasantly surprised by the amazing performances and how wonderful they sounded. Thanks for a fun memory in our memory book!